Gladstone- Operate Light Vehicle. Group Bookings Only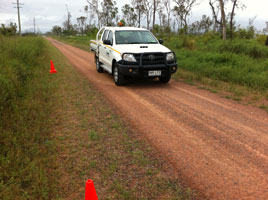 À partir de

AUD
395,00 $AU
Durée: 8 Heures (environ)
Code produit: tvlle riiveh201b
Welcome to Olsen's Tours and Training booking system. If you don't see an available date and you wish to book for a group, please phone us to arrange a suitable date.

Payment online is via credit card or EFT. If you would like to pay on invoice and have, or would like a vendor arrangement with us, please click on the contact us button. We would be very happy to setup a preferred supplier agreement with your company. Simply click on the contact us button.

The Low Risk Driver operates a light vehicle in such a way as to prevent being involved in an accident regardless of the action of other drivers or the driving conditions. Learn how to avoid most common crashes Learn about ABS/ESP and vehicle safety features Practice emergency braking in a safe environment Experienced and freindly trainers Regular courses Australia wide On-site training available Corporate bookings available for government / mining and large groups This low risk driving course will give you the skills and knowledge to help make your driving more enjoyable and safer. Our friendly trainers will provide you with a mix of theory and practical exercises on the day that will challenge you and leave you with the knowledge and skills to become a safer driver. The best part is that all training is done in your own car – no simulators. The experience and knowledge you gain from this course will change the way you drive for ever. Suitable for fleet, governement, mine sites and the general public.