23 Day Gun Barrel Highway and Canning Stock Route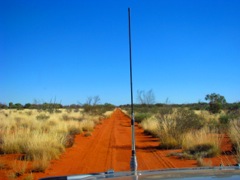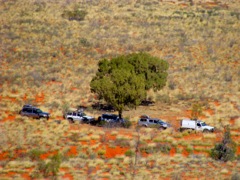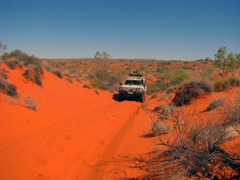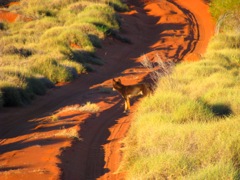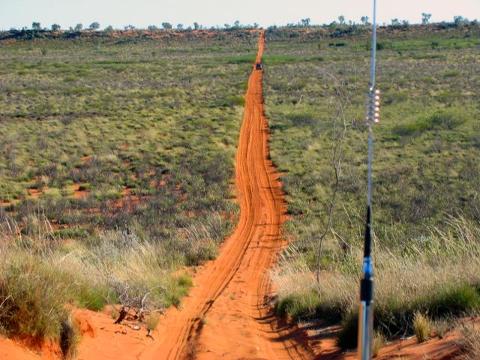 Duration: 23 Days (approx.)
Product code: 23daycanning
What is a tag-along tour? A tag-along tour is one in which you drive your own (or a hired) vehicle following a lead vehicle. Your leader is there to help you develop the skills necessary for outback and desert driving including how to master the dunes. She is a skilled bush mechanic, able to solve many of the problems that people find themselves having in the outback, problems hat would typically result in the journey ending. She provides equipment and skill at recovering bogged vehicles. She also provides interpretive services, telling you all about the European and some of the Aboriginal history of the ares through which you travel. She provides some facilities with which to cook, a bbq plate, camp ovens and the like. She carriers extra water allowing for some kind of limited washing of ourselves, she provides the "shower tent" and toilet facilities and lots of knowledge and assistance when you feel out of your comfort zone. Vehicle hire companies will usually not permit a vehicle to enter the Simpson Desert unless on such a tour.

Our Touring Philosophy
We have over decades developed a formula that keeps our tour participants coming back for up to six years, every year, That formula is based on a couple of simple concepts.
· We endeavour to create a fun, informative, life-changing experience.
· We keep our camps simple, so that you can experience nature, the dark skies and the camaraderie of like-minded travellers. Our goal is to take you as far away from your buy lives as we can, we take you back to a simpler way of life, our camps, apart from the vehicles and modern materials are very reminiscent of the simple camps my father and grandfather enjoyed as bushmen and stockman. You get to experience the kind of life the early explorers may have had, if only they had 4WD vehicles and modern sleeping bags and tents.
· This is not five star camping, this is million star camping. If you want linen table cloths and waiters, we're not for you.
· It's your holiday, not ours. Small itinerary variations, by mutual consent of all participants, in search of particular experiences, are welcome. If we can accommodate, we will.
· We are not in a rush. Our tours are paced in such a way that we can deal with most delays, without having to "make up time."
· We create a life-changing learning experience. Your tour leaders are very experienced desert travellers, knowledgeable about our history and Aboriginal culture and they know this country like you may know your back yard. Whether it's learning about that history, the geology, the flora and fauna or simply how to develop the knowledge and skills needed to travel unsupported in this desert country, your leader can help.
· Our goal is to have you forget what day of the week it is.
Diversity and Inclusion Statement
Olsen's Tours and Training has been a member of the ACON Welcome Here program for years. Kimberly Olsen has been influential in Diversity and Inclusion and cultural change in Australian corporations and Australian Health as a consultant and inspirational speaker. Her most significant work has been on the inclusion of transgender and gender diverse people within the recruitment process, her work on LGBTI inclusive service provision and the preliminary setup of the Pride in Health & Wellbeing program. We welcome all people on our tours and expect the same of our participants. Our women's tours are for all women.
Our tours travel through the traditional lands of Australia's First Nations peoples, often via invitation. A history of dispossession and colonisation lies at the heart of the disparity between Aboriginal and Torres Strait Islander people and non-Indigenous Australians today. We don't tolerate racism and ask that all of our participants show the deepest respect for our hosts and their homelands.
This Tour

The Canning Stock Route is the most remote, most adventurous 4wd trip you can undertake in Australia. The Canning stretches from Wiluna to Halls Creek in Western Australia crossing the Great Sandy Desert, the Little Sandy Desert and parts of the Gibson Desert. It comprises almost 1900 kilometres and over 1000 sand dunes of the harshest yet most beautiful country in Australia'a incredible outback.

In 1906 a series of wells were dug, some in the location of existing aboriginal "wells" to allow for droving of cattle. The area has an incredible beauty and the scenery is ever changing.

The history of the stock route and the aboriginal history comes alive on this tour.

The Canning Stock Route requires a vehicle that is very well prepared for remote desert travel. We can assist you with this preparation. Contact us now to be part of this incredible adventure.

Per vehicle price allows 2 adults
Vehicle Requirements For This Tour
Suitable to 4 Wheel Drives with high and low range. No Trailers.

Your 4WD should have recovery points located at the front and rear (tow bar is suitable)
We recommend heavy duty springs and shock absorbers and a Cargo Barrier
A vehicle pre trip check prior to departure is essential

Ask us about any of the above if you are unsure.
Fuel
You must be able to carry the following total capacity.
V8 and Straight 6 petrol engines 200 litres
V6 and 4 cylinder petrol engines 180 litres
Diesel engines 160 litres


Spares/equipment
A UHF radio – we can hire you a radio
Carry a snatch strap and rated shackles (see our shop if you need recovery equipment)
Spare Fan belts, fuel filter, radiator hoses and clamps, air filter, oil and brake fluid, 1 extra spare tyre
Assorted fuses of 10amp, 15 amp and 20 amp to suit the vehicle plus spare fuses for UHF radio and fridge

Driver experience
Prior experience not necessary as we will assist you as we go or you might consider attending our driver training course. - Do you require Driver Training? The Canning is a true remote 4wd adventure and as such comes with significant risk of vehicle issues. A well prepared vehicle is essential.
Food
This is a self catered tour, bring your own food and drink requirements, we supply a range of cooking equipment for use on a camp fire/coals.
You may choose to carry a small gas cooker.
You need to be totally self sufficient for 22 days and also Carry 5 extra days of emergency food supplies
Each vehicle must carry 50 litres of water.
Camping gear
You need to supply your own camping gear, this is a camping tour there is no accommodation option. Carry warm clothing at all times.
Facilities
There are generally no facilities at our camp sites.
More Info – will be sent to you once you register with your deposit
No 4WD?
We can help with the Hire of a 4WD
Refund Policy
We reserve the right to cancel or alter any tour or course at any time. We will determine if any refund is due if this action occurs.

In the event of you canceling a booking the following refund policy applies. Deposits are non refundable. If your booking can be reallocated to another participant then the deposit can be transferred to another tour of your choice which must be taken within 18 months of the original booked tour. The full tour fee is payable 30 days prior to the tour and is not refundable after this time. You should consider taking out Travel Insurance to cover any unforeseen circumstances including illness, vehicle problems or family matters.