8 Day Simpson Desert 4WD Tag Along Tour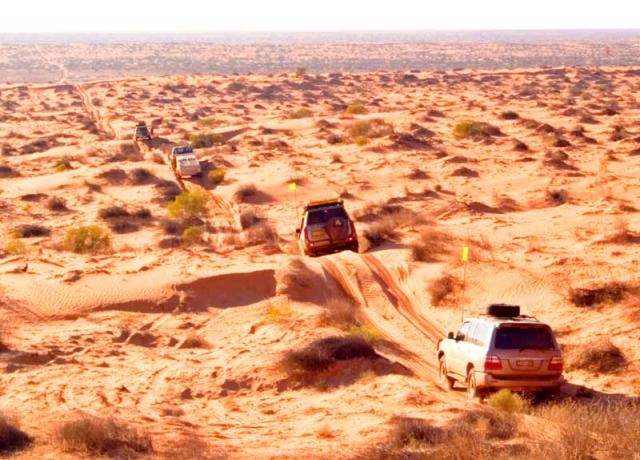 Duration: 9 Days (approx.)
Product code: 8daysimpson
What is a tag-along tour?
A tag-along tour is one in which you drive your own (or a hired) vehicle following a lead vehicle. Your leader is there to help you develop the skills necessary for outback and desert driving including how to master the dunes. She is a skilled bush mechanic, able to solve many of the problems that people find themselves having in the outback, problems hat would typically result in the journey ending. She provides equipment and skill at recovering bogged vehicles. She also provides interpretive services, telling you all about the European and some of the Aboriginal history of the ares through which you travel. She provides some facilities with which to cook, a bbq plate, camp ovens and the like. She carriers extra water allowing for some kind of limited washing of ourselves, she provides the "shower tent" and toilet facilities and lots of knowledge and assistance when you feel out of your comfort zone. Vehicle hire companies will usually not permit a vehicle to enter the Simpson Desert unless on such a tour.
Hire Vehicle Option
Participants without a vehicle, such as international travellers are welcome to hire a vehicle at their own cost. If you choose this option, you will have to pick up a Britz hire vehicle the day prior to the tour starting- there are two options of vehicle. We recommend Britz. They have allowed their vehicles into the Simpson Desert if on one of our tours. They generally do not permit their vehicles to enter the desert otherwise. Be sure to book early to secure your option. If you wish to hire a vehicle, please have us provide confirmation of a booking with us to Britz. If you do not do this, you may not be permitted to drive it in the Simpson Desert. We strongly recommend that you purchase the Max Cover because of potential costs, if you damage the vehicle and because Max Cover gives you unlimited kilometres. Some days can be more than the 300k limit that you get without Max Cover. If you wish to hire a vehicle, please select the hire vehicle option. There is no charge initially for this option. It is merely to let us know that you will be using a hired vehicle. Contact us for details of how to hire a vehicle. if booking through an agent, ask them to arrange the booking of a car and be sure to request entry to the Simpson Desert on a supported tag-along tour with n experienced guide (22 Simpson Desert Crossings)
Vehicle Owner Tag-Along Tour Option. Participants provide their own vehicle. Trailers are generally not not permitted we make exception for some trailers.
Our Touring Philosophy

We have over decades developed a formula that keeps our tour participants coming back for up to six years, every year, That formula is based on a couple of simple concepts.
· We endeavour to create a fun, informative, life-changing experience.
· We keep our camps simple, so that you can experience nature, the dark skies and the camaraderie of like-minded travellers. Our goal is to take you as far away from your buy lives as we can, we take you back to a simpler way of life, our camps, apart from the vehicles and modern materials are very reminiscent of the simple camps my father and grandfather enjoyed as bushmen and stockman. You get to experience the kind of life the early explorers may have had, if only they had 4WD vehicles and modern sleeping bags and tents.
· This is not five star camping, this is million star camping. If you want linen table cloths and waiters, we're not for you.
· It's your holiday, not ours. Small itinerary variations, by mutual consent of all participants, in search of particular experiences, are welcome. If we can accommodate, we will.
· We are not in a rush. Our tours are paced in such a way that we can deal with most delays, without having to "make up time."
· We create a life-changing learning experience. Your tour leaders are very experienced desert travellers, knowledgeable about our history and Aboriginal culture and they know this country like you may know your back yard. Whether its learning about that history, the geology, the flora and fauna or simply how to develop the knowledge and skills needed to travel unsupported in this desert country, your leader can help.
· Our goal is to have you forget what day of the week it is.

Located within the driest region of the Australian continent, the Simpson Desert is one of the world's best examples of an erg or dunal desert, a sea of parallel red sand ridges some 300 - 500 kilometres long covering a total area of more than 170,000 square kilometres. The mean annual rainfall of 130 millimetres is very variable and unpredictable. Summer temperatures can exceed 50° C.

The Simpson Desert lies across the corners of 3 States, South Australia, Queensland and the Northern Territory, with the South Australian section divided into 3 protected areas, Simpson Desert Conservation Park, Simpson Desert Regional Reserve and Witjira National Park.

Although many people imagine the Simpson desert to be a huge sea of sand void of plant and animal life, the truth is very different. The desert changes almost continuously as you travel across it. The views are often breathtaking. The sky is immense and so is the landscape. This is big sky and big dune country at its best.

Early risers will be greeted with the most incredible colours at dawn, and the calls of numerous birds including the Crested Bell Bird. A morning walk along the dune crests will reveal tiny footprints of the hopping mouse, lizards and small marsupials.

The journey to the Simpson Desert via the Old South Road and the historical Ghan railway line is perhaps one of the most interesting and picturesque desert journeys you can do. The route abounds in history, both aboriginal and european and some of the most amazing geographical formations tell of a much wetter past.

Traveling the Simpson Desert via motor vehicle is not for the inexperienced, that is why a tag-along tour is one of the best ways to experience the desert. I personally have witnessed a convoy of eight vehicles reduced to a convoy of just three due to inexperience. Given that vehicle recovery costs from the desert could be more than $4000, a tag along is a great investment.

Cross the desert the smart way, with our tag-along tour. Get your head out of the maps, and enjoy the scenery.